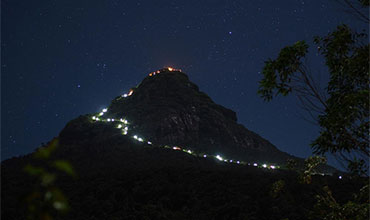 Our sole reason for being in Hatton, or more specifically Delhouse, is to climb up Adam's Peak. ( Hub of the central province , Sri Lanka ) This is the mountain behind us in today's blog image. It stands at 2,243 meters high and the 6000 steps that get you to the top are said to involve a 9 mile round trip. I know, this does not sound like fun at all, but it's one of the top rated things to do in Sri Lanka so here we are!
Adam's Peak actually holds a lot of religious significance and is not only visited by tourists but also by the locals. Every month when there is a full moon, local Sri Lankans make the pilgrimage to the temple at the top of the peak as a symbol of their faith. The reason this peak is said to be so significant to religion is because a footprint of " GAUTHAMA BUDDHA " was found up there.
Call us to get a rear opportunity to visit Adam speak with " Online Travels & Leisure Agencies" for a lifetime memory.!!!!!!